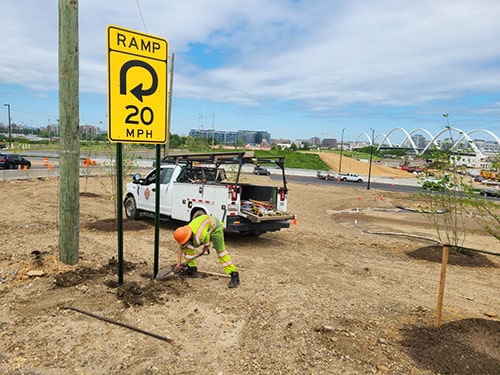 As an MDOT certified sign shop, we can fabricate and install signage for your projects. We follow the entire process for you, from preparing shop drawings and coordinating with MDOT inspectors to installation. Our in-house sign shop has experienced sign manufacturing experts that can handle all of your temporary, permanent, and custom sign needs for commercial or personal use.
Retroreflective sheeting products include:
3M
Brightline
Avery Dennison
OraJet
Oracal
Sign substrate products include:
Alpolic
Diabond
Coraplast
Aluminum
Max Metal and Wood
Our permanent and temporary sign installation services are performed by our experienced technicians and follow all specifications as required per manufacturers, MUTCD, and state requirements.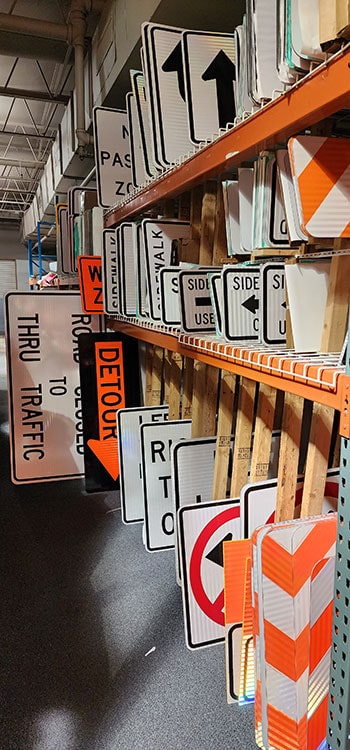 Rigid & Roll Up Signage
If you need temporary or permanent road signage for construction work, events, emergencies, and more, we can design and fabricate rigid and roll-up signage for your purposes.
Rigid signs can be permanent or temporary, serving many different roles. A few examples include construction signs and parking, handicap, school, street name, warning, and regulatory signs. We use various substrates to meet your needs.
Roll-up signs are lightweight and perfect for portability. They are common for construction, emergency, and other temporary traffic control situations.
Adhesive Vinyl Signage & More
Road Safety, LLC fabricates custom signs of all shapes and sizes for commercial and personal use. If you can think of it, we can design and produce it. Our signage includes adhesive vinyl, reflective sheeting, banners, stickers, window films, and more.
Contact Us for More Information!
Visit our storefront in Glen Burnie, MD, or contact us via phone, fax, or email to learn more or request a quote for our services.