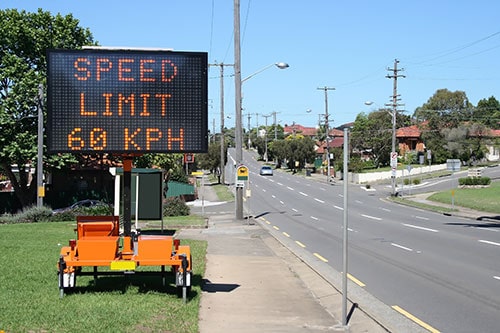 The use of a Traffic Monitoring System (TMS) increases traffic awareness and assists motorists in moving more safely around work zones. Communication-based information software and innovative electronic technologies provide contractors and transportation agencies with a comprehensive smart work zone package.
What Is a Traffic Monitoring System?
A Traffic Monitoring System (TMS) is an online system that can collect, analyze, and report traffic data in real-time to warn, guide, or inform drivers. Road Safety, LLC supplies the Smart Work Zone products that display the data from this system. All of these products are portable, provide real-time and reliable data, and require little supervision. Once set up, you have yourself a Smart Work Zone.
Why Utilize Smart Work Zones?
Smart Work Zones channel reliable, real-time data from a Traffic Monitoring System to inform drivers of upcoming or immediate road conditions, but how can this technology benefit your road project?
In heavy traffic, often seen in the Mid-Atlantic region, traffic jams can occur unexpectedly for various reasons, such as construction work or incident management.
Temporary signage helps to some degree, but in some conditions may not always be accurate, which can cause even more confusion. That is why digital signage that updates messaging in real-time well ahead of the curve is the best way to improve traffic flow.
Smart Work Zone Applications
Smart Work Zones have more applications than one. Below are the top ways that Road Safety, LLC can assist your traffic control needs with Smart Work Zone technology.
Travel Time
If you live in Maryland, you might have seen signage telling you how many minutes it will take between your location and the Chesapeake Bay Bridge. That is one example of how Smart Work Zone technology works. Given this information, drivers can make alternate route decisions and potentially lighten up traffic.
Queue Detection
A Queue Detection device collects real time traffic data, such as speed, volume, and occupancy for up to 22 lanes of traffic. This provides advance notice upstream to automated variable message boards.
Variable Message Boards
Variable message boards (VMS boards) can alert drivers and provide information of traffic issues upstream. This will allow drivers to make other route choices or guide them through with knowledge of what to expect ahead.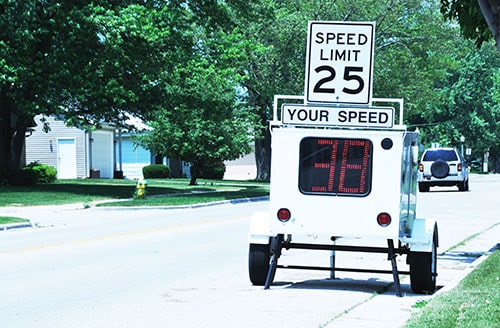 Speed Display Trailer
Speed Display Trailer helps traffic slow down according to the activity at the work zone. This system is flexible to keep traffic moving at safe and optimum speeds according to the ever-changing work zone conditions. This systems can also display drivers' speeds as they pass by and indicate whether they are within or over the speed limit. This type of signage is helpful around events, work zones, and emergency zones.
Contact Road Safety for Smart Work Zone Services!
Smart Work Zones are the only technology that provides real-time, accurate traffic data. Contact us for Smart Work Zone products and services!