Let Road Safety help with your event. We can provide Variable Message Boards (VMS), Traffic Control Services, Crowd Control Barriers, Type I, II, or III Barricades, Traffic Construction Cones, Traffic Barrels, and ATSSA Certified Flagging services. We can also provide Hi-Visibility Personal Protection Equipment (PPE), signs, and other devices to ensure a safe event.
Selecting Traffic Control Products & Services
Event traffic control plans can require numerous traffic control products and services to meet specific goals. We would love to talk with you about your options and what would work best for your traffic control needs.
Traffic Control Services
If you are hosting an event at a venue, you may need MOT services to manage traffic flow in and around your event safely. Road Safety, LLC provides signage including Variable Message Signs, Arrow Panel Boards, flagging services, and more for events of all kinds.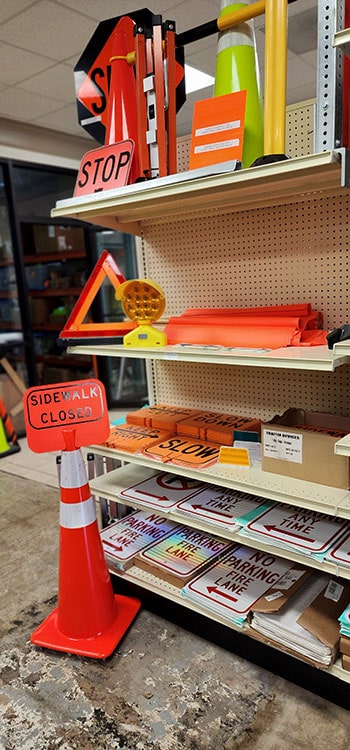 Traffic Control Devices
Parking Lot Signs: Parking lot signs can be temporary or permanent. They can improve traffic flow, indicating parking for disabled persons, reserved parking, no parking zones, and more.
Traffic Control Signs: Temporary Work Zone signage can help maintain safety at your event. For example, one can signal to drivers with a message board or custom sign reading, "Event Ahead" or "[Your Event] Next Right."
Crowd Control Barriers: Crowd control barriers are commonly used to keep people out of restricted areas, such as a parade or protection for race routes. They also help direct traffic to and through parking lots.
Type I, II, & III Barricades: Type I and Type II barricades are foldable and portable A-frame barriers with one or two retroreflective panels, respectively. Type III barricades have three reflective panels and are best suited for full-roadway closures. We also supply water-filled barriers.
Traffic Cones & Barrels: Traffic cones and traffic barrels are the go-to tools for creating safe pathways for pedestrians and vehicles alike. Their durable, retroreflective properties make them visible even at night.
Personal Protection Equipment: ANSI-certified PPE includes high-visibility safety vests, pants, and hardhats for optimum road safety visibility. Other PPE we offer includes gloves, eye protection, hearing protection, respiratory protection, and more. Any industry can benefit from them aside from special event traffic control. Our PPE products are for purchase only.
Who Can Benefit?
Our special event traffic control services and products are for anyone who needs PPE or other traffic control products. Applications include but are not limited to concerts, fundraisers, national and state parks, hotels, warehouses, community events, and block parties.
Some of our events include:
10k Across the Chesapeake Bay Bridge
The Ortho Bethesda Great Strides 5k
Color Run Race
St. Michael's 5k Race
Annapolis Boat Show
Bay Bridge Boat Show
Crab Feast Signage
Call Road Safety, LLC for Special Events!
We are a trusted provider of traffic control products and services and are happy to help with your special event traffic control. We can provide you with valuable insight as well as products, product installation and removal, and the traffic control itself. Contact us for more information!