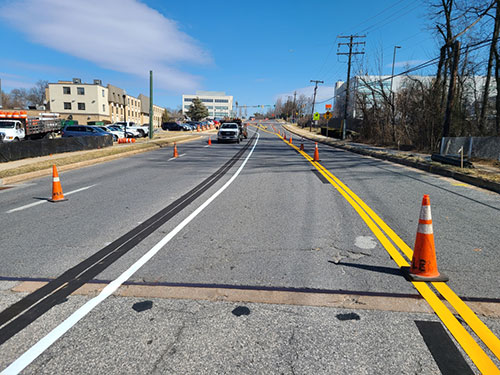 Road Safety LLC has the products, training, and experience to provide and install temporary and permanent pavement markings for your project. We also sell temporary and permanent road marking tape, permanent preformed thermoplastic markings, legends and lines.
Road Safety Offers:
Federal, State and County approved Temporary and Permanent Pavement Markings
Federal, State and County approved Permanent Pavement Markings
Pavement Marking Removal Services
Only approved products that meet the specific federal, state and local standards.
3M trained technicians
Preformed Thermoplastic Markings
Thermoplastic is a durable form of plastic that requires sufficient heating to fuse with pavement or concrete surfaces. There are two types of preformed thermoplastic: preheat and no preheat. Preheated markings require a professional to heat the pavement before applying the markings. No preheat thermoplastic works just as well and cuts down installation time. Used worldwide, preformed thermoplastic road markings withstand harsh temperatures and road conditions when applied correctly.
3M Permanent Tape
3M is a global company dedicated to inventing innovative products in multiple sectors, including traffic safety. In addition to manufacturing high-quality sign sheeting, 3M also produces 3M permanent pavement tape that rivals road paint in its retroreflectivity and longevity. Pavement tape is also cost-effective. Installing 3M tape requires proper training and certification, and our technicians are 3M certified to comply with appropriate installation practices.
Temporary Tape
Temporary road striping or pavement markings are helpful and affordable components of a traffic control plan during construction. Temporary road lines and markings can direct traffic smoothly around the work zone. Like permanent pavement tape or preformed thermoplastic, temporary construction tape has glass beads within the surface that make them retroreflective in poor visibility driving conditions.
Removable Blackout Tape
In the duration of the altered traffic lanes, you will also need a way to eliminate original pavement markings while temporary construction tape is in place. We can install and remove durable Blackout tape that conveniently covers permanent road markings with a non-reflective matte black fabric tape. Application to the pavement is quick and easy and cuts down the costs of removing existing permanent road markings.
Make Road Safety, LLC Your One-Stop Shop!
Installing road striping, symbols, and legends is a job for professionals. Road markings must adhere to strict Maryland regulations as marked in the MUTCD. Installing and removing pavement markings is also a task that requires specialized training and certification to perform. Moreover, safety is always a priority, and no one keeps up with the most advanced road safety techniques like Road Safety, LLC! Contact us for more information or a quote on our products and services.